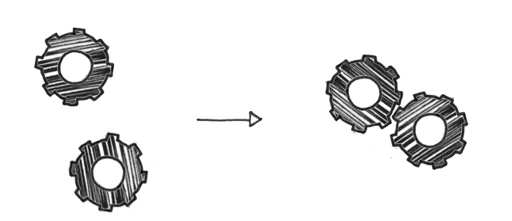 Listening-Dialogue
Using the best within us to create and grow something together
Meet, discuss a subject, listen to each other and oneself – that is totally simple, and at the same time an art.
What are Listening-Dialogues good for?
You want /wish to
- Develop the next steps of your work with a colleague
- or organize a task you share
- or find solutions for a pending project with your partner
- or discover possibilities to distribute working hours
- or explore a current political issue with a friend
- or work with her or him on questions you share
- or pursue something which occupies you both
- or have just a conversation together about a subject you have chosen at random, inspired i.e. by a journal or a book.
This is what we developed Listening-Dialogues for, to follow up on such joint plans, tasks or questions, without pressure and in spite of this or especially because of this effectively. It is about cooperation and working together.
In case the subjects one wishes to talk about are linked to the relation between the partners in dialogue, there are more suitable forms to discuss these (i.e. Dialogues according to Michael Lukas Moeller).
How do Listening-Dialogues work?
You are not being interrupted while you speak.
You can pause while speaking to think.
You can listen without at the same time having to wait for the person speaking to pause, so you can voice your own thoughts.
You can concentrate on listening, without at the same time having to think about whar you are going to say, because this is what the times of silence are there for.
There are times of silence in which you can listen to what came up inside of you while you where voicing your thoughts.
The Listening-Dialogue does not need moderation .
What you need for a successful carrying out is described below:
What does one need for a Listening-Dialogue?
- A quite place, undisturbed space.
- A bit of optimism that together something can develop which surpasses what is available to the individual at present.
- The Timer App on this page or two sandglasses (30 Seconds and 15 Minutes)
- Two chairs placed facing each other.
- A small table or a place to put the the timer.
- The issue raised to start the dialogue with.
- Instructions for the Listening-Dialogue. You will find these here (to print in A 4). If needed, you can read these right before you start the dialogue.

- The 'Listening Card' to print in A 4. The small card is created by cutting it out and folding it. This card describes the basic attitude of the listener and the speaker. If needed, you can put this in front of you during the dialogue. The page "listen" or "speak" is facing up as actually needed.

The Timer:
- Timer (30 Seconds) to initiate the change of roles and the times of silence to resonate.
- Timer (15 Minutes) for the time of the dialogue with the option to extend for another 15 minutes.
We build an online Timer (v.01 beta) for the LISTENING DIALOGUE:

What is different about the Listening-Dialogue?
What is different, if one creates a large space for listening (for the other and oneself) within a dialogue? What are your experiences?
Please, share these with us and write to: [artinprogress.info]
All materials on three PDFs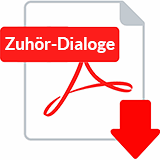 Feedback:
Not to be answered immediately, takes exercise.
@Kathrin
I think this was the first time I ever listened to my friend.
@Rachel
There is a special quality to it: No eating, no drinking, no one disturbing, you are not interrupted, you can always decide when to take turns – a unique talk.
@Eike
I think, the breaks slow down in the beginning, but in the end they definitely accelerated everything.
@Karin
Installing my own in a conversation is always a feat for me and is usually associated with the experience of being able to express something only incomplete. Here it went after some time totally easy.
@Richard
I have a tendency to monologue, most likely to prevent the others from interrupting me. In this talk I could forget about that and quite quickly reach important points. At least it was that way. I knew somehow that no one is going to interrupt me as long as the clock has not been turned over.
@Susanne
Somehow such a dialogue connects. Earlier we did not know each other and now he already helps me searching and holds my handbag.
@Francisca
I could be much more open and really listen, because I had the opportunity to say something myself at any time.
@David
The best thing is not being interrupted.
@Bärbel
First one thinks, the 30 seconds without talking are just holding up?postponing? a waste?. But then it was astonishing how much we did discuss.
@Manfred
I could unfold myself in the subject much more than I experience this almost everywhere else.
@Patricia
For the first time her eyes were shining; otherwise her eyes are always somehow dull – or did I see her eyes for the first time?
@Martina